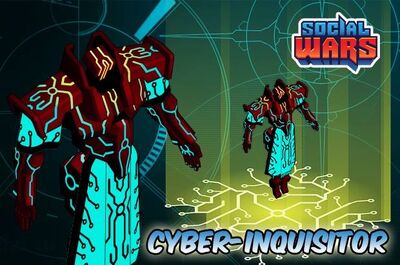 Fearsome, impertubable, unforgiving...
Cyber-Inquisitor will protect your city without moving!
Release on 12 October 2013. It was once available with purchase
In order to get this you must have Godzilla Mech and Red Mercury Dragon (Um, it can't be fused)
Perhaps the strongest unit in Social Wars.
It is a mech said to be lost in time, and has return to the present to end it.
How to Obtain It?
Edit
The only way to obtain it is buying it. Unfortunately, this Unit cannot be fused
Ad blocker interference detected!
Wikia is a free-to-use site that makes money from advertising. We have a modified experience for viewers using ad blockers

Wikia is not accessible if you've made further modifications. Remove the custom ad blocker rule(s) and the page will load as expected.