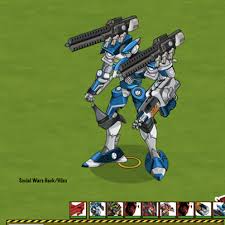 Double Cannon Mech Can Be Obtained Through Atom Fusion!Ether Messiah + Dark Ether Messiah or Spartan Warrior Mech+ Camu Metal Dragon, BUT IT'S NOT CERTAIN SO DON'T GET THE WRONG IDEA.
THIS IS THE EVOLVED CANNON MECH WITH A MUCH DAMAGE OUTCOME!!!
Statictics:
Edit
HP:2300
ATTACK:56
RANGE:9
SPEED:6
DELAY SPEED:35
Ad blocker interference detected!
Wikia is a free-to-use site that makes money from advertising. We have a modified experience for viewers using ad blockers

Wikia is not accessible if you've made further modifications. Remove the custom ad blocker rule(s) and the page will load as expected.