Gamera Mech Description:
Rebuilt as a giant robot here comes the titanic mutant turtle:Gamera Mech Burst Enemies To Flames.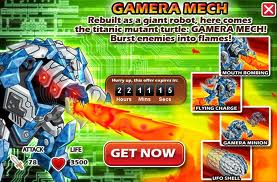 LIFE: 3500
ATTACK: 78
SPEED: 6
RANGE: 10
Delay: 35
Mouth Bombing: Fires a powerful Bomb that explodes on contact with the Enemy
Flying Charge: Flies towards enemy And Pushing Them Away
UFO Shell: Turns Into A Shell Charging To Enemy As Well As Doing Damage
Gamera Drone:Summons Drone Max:: Up To 3
Drone Stats:
Life:550
Attack:28
Range:11
Delay:30
Speed:8
This is the 2nd Kaiju-based mech. The first being Godzilla Mech
This mech is based off of the movie Gamera the Brave with only two attacks that are related to the movie,especially the ufo shell and the mouth bombing
This Mechs Normal Counterpart Is The Godzilla Mech
It COULD be obtained (made) from the atom fusion
Ad blocker interference detected!
Wikia is a free-to-use site that makes money from advertising. We have a modified experience for viewers using ad blockers

Wikia is not accessible if you've made further modifications. Remove the custom ad blocker rule(s) and the page will load as expected.