"Rebuilt as a giant robot, here comes the titanic mutant turtle: GAMERA MECH! Burst enemies into flames!"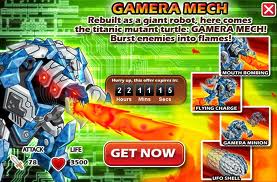 Gamera Mech is another Kaiju-based mech avalible by a limited time offer alone before, now with the Godzilla mech,or can be mixed by atom fusion by fusing a Spartan Warrior Mech with a Red Mercury Dragon .
LIFE: 3500
ATTACK: 78
SPEED: 6
RANGE: 10
ATTACK DELAY: 35 seconds
Mouth Bombing: Fires a powerful ball that explodes on contact with the enemy. Only fires one
Flying Charge: Flying towards enemy & knocks them back & might burn them.
UFO Shell: Retracts into his shell, spins & knocks enemies back aswell as dealing damage.
Gamera Drone: Spawns 3 drones to assist
This is the 2nd Kaiju-based mech. The first being Godzilla Mech
This mech is based off of the movie Kaiju Gamera & shares many of his attacks.