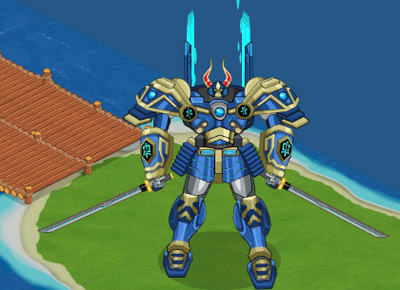 Great Shogun Mech
Edit
Follow the path of the samurai with this 2 sword-wielding mech !
Great Shogun Mech is a Mech unit. It can be obtained from Atom Fusion.
Division: Mechs
Life: 2050
Attack: 52
Range: 2
Speed: 6
Delay: 30
Population: 3
Special Powers
Edit
Double Blade Attack
Samurai Power!
Whirlwind!
Spawns drone (max 3)
Atom Fusion Combinations
Edit
Great Shogun Mech Drone
Edit
Division: Air
Life: 450
Attack: 25
Range: 11
Speed: 8
Delay: 30
Population: 2
Special Powers: Nil
Atom Fusion Combinations
Edit
Blue Steel Draggy + Soldier 5 (1 days 5 hr 45 min, confirmed)
Ad blocker interference detected!
Wikia is a free-to-use site that makes money from advertising. We have a modified experience for viewers using ad blockers

Wikia is not accessible if you've made further modifications. Remove the custom ad blocker rule(s) and the page will load as expected.