While GunBot is a Mech, it belongs to the Bazookas' division. It used to be produced by Robotic Center. Now GunBot can be obtained at Auction House. The GunBot closly resembles the AMP Suit from Avatar the noticeable differences being the top mounted laser and the arms being replaced by guns. 
Division: Bazookas
Life: 1200
Attack: 30
Range: 7
Speed: 5
Delay: 35
Population: 3
XP to L2: 6000
No special powers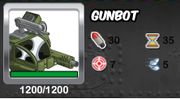 Ad blocker interference detected!
Wikia is a free-to-use site that makes money from advertising. We have a modified experience for viewers using ad blockers

Wikia is not accessible if you've made further modifications. Remove the custom ad blocker rule(s) and the page will load as expected.