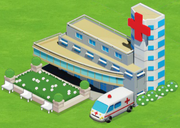 The Hospital lets you recover units that have been lost in battle. Units can be resurrected with either resources (including cash) or syringes.
Syringes can be acquired by sending requests to your friends. After you have entered the hospital, just click on the "Ask For More" button below the number of your syringes to send out requests.
It is recommended to ask for syringes beforehand, as the special and powerful units tend to be resurrected with only syringes or cash, such as most of the mech units.
Recover Costs
Edit
Ad blocker interference detected!
Wikia is a free-to-use site that makes money from advertising. We have a modified experience for viewers using ad blockers

Wikia is not accessible if you've made further modifications. Remove the custom ad blocker rule(s) and the page will load as expected.