Laser Blade Automech is obtainable by Atom Fusion.
It resembles Sentinel Prime from Transformers, but the coloring is Orange and some changes to the structure are different.
HEALTH : 2600
ATTACK : 59
DELAY : 35
ATTACK RANGE : 2
SPEED : 6
Possible Combinations:
Edit
Dark Ether Messiah + Blue Steel Dragon
Gamera Mech + Archnoid mech
pharoah mech + pharoah mech
forge dragon + prime automech
Red Mercury Dragon + Spartan Warrior Mech ( + 1 power up )
Pictures
Edit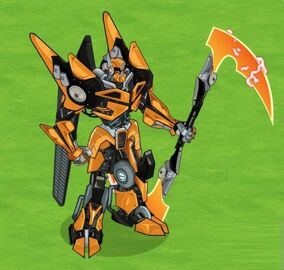 Ad blocker interference detected!
Wikia is a free-to-use site that makes money from advertising. We have a modified experience for viewers using ad blockers

Wikia is not accessible if you've made further modifications. Remove the custom ad blocker rule(s) and the page will load as expected.