Section heading
Edit
HP: 2200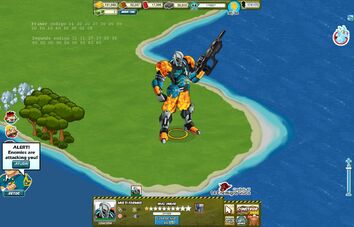 ATTACK: 54
RANGE: 10
SPEED: 6
DELAY SPEED: 35
This unit is THE best,powerful, and can be obtained through Atom Fusion! Morph into any other unit and use all his special attacks!!!Edit
Atom Fusion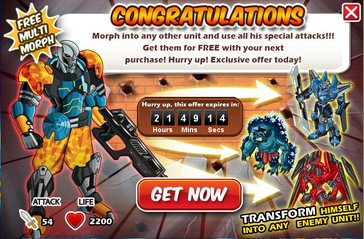 Megabot+ Spartan Warrior Mech
Red Mercury+ Spartan Warrior Mech
Forge Dragon+ Celestial Megamech
Spartan Warrior Mech + Samurai Bot
IT CAN MORPH INTO ANY ENEMY UNIT!
This creature has high advantages but because its health and damage are the same to the enemy target that its morphed into.
Ad blocker interference detected!
Wikia is a free-to-use site that makes money from advertising. We have a modified experience for viewers using ad blockers

Wikia is not accessible if you've made further modifications. Remove the custom ad blocker rule(s) and the page will load as expected.