Attack:80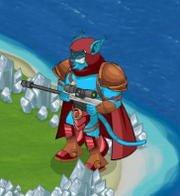 Attack Delay:180
Range:15
Speed:5
Health:500
Special Attacks
1)Hide-Hide the Sniper for 10 seconds. It will be immune to attack while being invisible.
2) Headshot- Shoots a target at a vulnerable point.Deals around 350-560 damage
If you're lucky, this unit will appear in the auction house.
Ad blocker interference detected!
Wikia is a free-to-use site that makes money from advertising. We have a modified experience for viewers using ad blockers

Wikia is not accessible if you've made further modifications. Remove the custom ad blocker rule(s) and the page will load as expected.