Red Mercury Dragon
Comments

52
255pages on
this wiki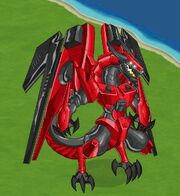 "The Red Mercury Dragon is a new breed ready to help you on this planetary war!!"
The Red Mercury Dragon is a robotic mech avaliable to players who have reached Level 10 in Dragon City, regardless of your level in Social Wars.
Division: Dragon
Life: 2200
Attack: 54
Range: 12
Speed: 7
Delay: 35
Population: 3
XP to L2: 12000
Rocket Assault: Launches two missiles at once from its chest that burn enemies.
Mortal Charge: Charges towards enemies & knocks them back.
Grenade Frenzy: Launches grenades.
Call Draggy: Summons a Red Mercury Draggy to assist. Maximum of 3.

    its possible to get with golden slayer+ Dragon born mech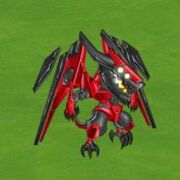 its also possible with sparton warrior and samurai bot
Red Mercury Draggy
Edit
Division: Draggy
Life: 450
Attack: 26
Range: 11
Speed: 8
Delay: 30
Population: 2
XP to L2:
This mech has four eyes, two on each side of its head.
You can get this thing by mixing  Golden Golem + Black Brutus Mech =Red Mercury Draggy
You can't fuse this unit until you are level 20. Same goes with Spartan Warrior Mech
You can get it by putting ether messiah + sparton warrior in the atom fusion