The Red Tank is a rare tank that can be only obtained in the units collections.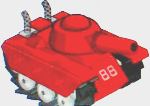 Hp: 150
Attack: 18
Range: 8
Speed: 6
Attack Delay: 35
Size: 2
This the weakest tank.
This is the hardest tank to get.
It doesn´t appear in the auction house.
It is the tank counterpart of Red Chopper and Red Baron.
It can be obtained by fusing Medic and Engineer in Atom Fusion.
Ad blocker interference detected!
Wikia is a free-to-use site that makes money from advertising. We have a modified experience for viewers using ad blockers

Wikia is not accessible if you've made further modifications. Remove the custom ad blocker rule(s) and the page will load as expected.