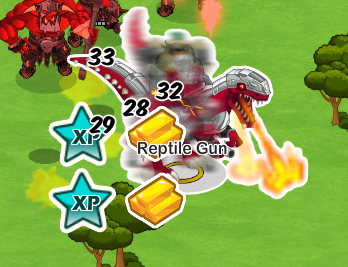 The Reptile Gun is a special unit of Social wars. It can be obtained in Auction House or the Reptile Gun Academy.
Health: 1200 
Attack: 42
Range: 12 
Speed: 7 
Atk Delay: 35 
Population: 4
Fire Balls- Shoots a burst of deadly fire balls
Burn Area- Whirlwind while throwing fire from mouth and fires enemies using its mouth
It is a  Dinosaur. 
It is really expensive in Reptile Gun Academy costing 6000 gold and 8000 steel.
You can purchase the Reptile Gun Academy in the Limited Edition section on the shop for 35 cash.
It's possible to get the Reptile Gun from Atom Fusion - I did not check the units I used though I believe one was the Mega-bot. All possible pairings would be;
Jeep
Elephant Rider
Erradicator
Roller Skater
Mix and match until the silhouette is clearly the Reptile Gun.
Ad blocker interference detected!
Wikia is a free-to-use site that makes money from advertising. We have a modified experience for viewers using ad blockers

Wikia is not accessible if you've made further modifications. Remove the custom ad blocker rule(s) and the page will load as expected.