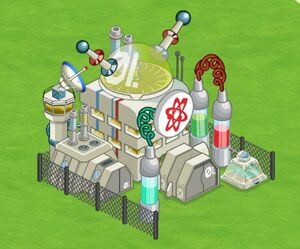 The Research Lab lets you learn and use both offensive and defensive spells on the battlefield. You must be at player's level 35 to build the Research Lab.
As you advance in levels, more powerful spells will become available in the lab. Currently the lab has 10 spells in store.
To learn an available spell, you can buy it with either gold or cash.
All spells have 3 levels of power (stars). The more you use a spell, the more its progress bar will be filled out until it reaches the next power level. The higher the level, the more powerful is the spell, for example, with a bigger area of effect or lasting longer.

Dark Matter
Edit
All spells use "dark matter". You can buy dark matter with gold or cash.
The rates are:
10,000 gold = 5 dark matter
1 cash = 5 dark matter
List of Spells
Edit
Spell
Power
Dark Matter
☆
☆☆
☆☆☆
Avail. Level
Cost: Gold
Cost: Cash
Attack Boost
Increase units' life and attack
10
Area 5x5
Time 30
Area 10x10
Time 45
Area 15x15
Time 60
L35?
10,000
30
Alien Abduction
Call UFOs to abduct small and medium enemies
15
Area 5x5
Area 7x7
Area 9x9
L
AirStrike
Bomb a zone with fighters
8
Area 5x5
Damage 90
Area 7x7
Damage 120
Area 9x9
Damage 150
L
30,000
50
Medic Case Rain
Drop medic kits to fast heal your units
8
Area 5x5
Area 7x7
Area 9x9
L
40,000
60
Magnetic Trap
Pull enemies away and keep them from attacking
12
Area 25x25
Area 30x30
Area 35x35
L
Protection Shield
A dome to protect your units
8
Area 5x5
Time 10
Area 7x7
Time15
Area 9x9
Time20
L
Mech Summoner
Summon 2 mechs
16
Mechs life: 4,000
Mechs life: 5,000
Mechs life: 7,000
L
70,000
90
Shortcircuit Inductor
An electric current that stops all units from firing
10
Area 5x5
Area 7x7
Area 9x9
L
80,000
100
Nuclear Bomb
Drop a nuclear bomb
20
Area 5x5
Damage 150
Area 7x7
Damage 230
Area 9x9
Damage 310
L
90,000
110
Stealth Sneak
Allow your units to move undetected
8
Area 5x5
Time 20
Area 7x7
Time 30
Area 9x9
Time 40
L
Ad blocker interference detected!
Wikia is a free-to-use site that makes money from advertising. We have a modified experience for viewers using ad blockers

Wikia is not accessible if you've made further modifications. Remove the custom ad blocker rule(s) and the page will load as expected.