Ad blocker interference detected!
Wikia is a free-to-use site that makes money from advertising. We have a modified experience for viewers using ad blockers

Wikia is not accessible if you've made further modifications. Remove the custom ad blocker rule(s) and the page will load as expected.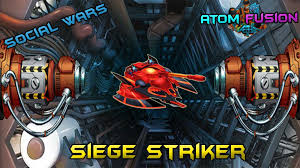 Siege Striker is a very powerful yet very slow aircraft unit that can be obtained from Atom Fusion.
While its name and Attack power may suggest that it is a siege unit. The Attack power is effective against both buildings and units.
Siege Strikers can be trained from Elf Siege Striker Academy. But the academy is no longer available.
Division: Aircraft
Life: 1500
Attack: 500
Range: 15
Speed: 4
Delay: 180
Population: 4
Atom Fusion
Edit
Siege Striker can be obtained in Atom Fusion. It takes 2 days 10 hours and 27 minutes for the fusion. The fusing combinations include:
Fire Godzilla Mech + Fire Godzilla Mech=Siege striker (a few tries)
Fire Godzilla Mech + Godzilla Mech=Siege striker
Fire Godzilla Mech + Massive Gunner Mech=Siege striker
Red Mercury Dragon + Avenger Mech=Siege striker
Red Mercury Dragon + Dual Blade Automech=Siege striker
Red Mercury Dragon + Electric Dragon=Siege striker
Red Mercury Dragon + Forge Dragon=Siege striker (a few tries)
Red Mercury Dragon + Spartan Warrior Mech =Siege striker(a few tries)
Red Mercury Dragon+Z Project mech=Siege striker
Massive Gunner Mech+Spartan Warrior Mech=Siege striker+2 Powerups (if lucky u can get, otherwise King Kong Mech)
Spartan Warrior Mech+Ultra Mech
Spartan Warrior Mech + Golden Slayer
Massive Gunner + Forge Dragon=Siege Striker
This unit is considered an aircraft and can be shot down by anti aircraft battery