Spartan Warrior Mech
Comments

26
255pages on
this wiki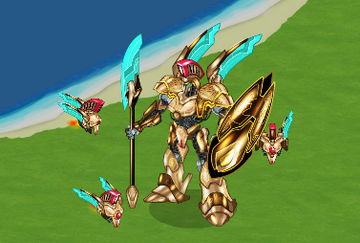 Spartan Warrior Mech is a mech unit.
It can be obtained by reaching level 10 in Social Empires, or by fusing from the Atom Fusion.
You can only send it inside the Atom Fusion for fusing another unit after you have reached level 20.

Division: Mech
Life: 2800
Attack: 64
Range: 3
Speed: 6
Delay: 35
Population: 3
This mech is considered to be stronger than the Red Mercury Dragon Mech.
Edit
-j
umps in the air and shots throught to the enemies
Atom Fusion Combinations
Edit
Spartan Warrior Drone
Edit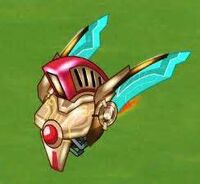 Division:Drone
Life:450
Attack:25
Range:11
Speed:8
Delay:30
Population:2
Spartan Warrior Mech is a counterpart of Pharaoh Warrior Mech.
Unlike most of the other drones, the Spartan Warrior Drone is shaped like a head rather than a full body
In using the mech I don't recommend using  the upper left skill the one that allows it to throw spears because it will cause a glitch or something... like it won't stop doing the animation but it doesn't deal anymore damge to the enemies.
This Mech cannot be put inside the Atom Fusion before lvl 20.
Can be obtain by Playing the awesome game Social Empires in facebook.