Spartan Warrior Mech
Comments

18
231pages on
this wiki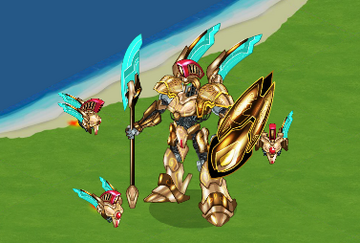 Spartan Warrior Mech is a mech unit.
It can be obtained by reaching level 10 in Social Empires, or by fusing from the Atom Fusion.
You can only send it inside the Atom Fusion for fusing another unit after you have reached level 20.

Division: Mech
Life: 2,800
Attack: 64
Range: 3
Speed: 6
Delay: 35
Population:
Special Powers
Edit
Multi Spear Attack: Jumps in the air and throw multiple spears to the ground below him.

Multi Spear Attack Bug: The mech keeps throwing spears until:

you use the attack again (it cancels itself before it starts usually),
the game map is changed, e.g. You start a mission in Missions World, or
you refresh the page.

Megacharge: Does a frontal charge with the shield.
Stab Attack: Pinches an enemy with the spear and throws him away.
Drone: Spawn drone.
Atom Fusion Combinations
Edit
Spartan Warrior Drone
Edit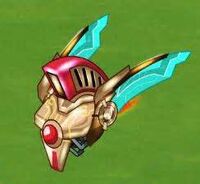 Division:
Life:
Attack:
Range:
Speed:
Delay:
Population:
Spartan Warrior Mech is a counterpart of Pharaoh Warrior Mech.
Unlike most of the other drones, the Spartan Warrior Drone is shaped like a head rather than a full body