Special Ops. is an infantry unit who has the abilities to hide and then show himself, and to attack a nearby enemy with his knife. He can use these abilities CONTINUALLY without the need for them to recharge. This makes him extremely easy to level up.
The only drawback of this unit is that he has very low life (hit-points).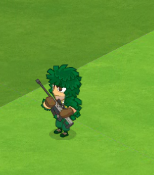 Division: Infantry
Life: 120
Attack: 10
Range: 8
Speed: 5
Delay: 35
Population: 1
XP to:

L2: 600
L3: 1200
L4: 2400
L5: 4800
L6: 7800
L7: 11400
L8: 15000
L9: 19200
L10: 24000
Special Powers
Edit
Slash Throat: Attack with knife. Needs to be close to enemy infantry. (Each attack deals more than 500 damage. This power can only be used on Infantry enemy units.)
Hide/Show
Atom Fusion
Edit
Special Ops. can be obtained in Atom Fusion by fusing:
His codename is Rambo in Mission 10 and 14.
Ad blocker interference detected!
Wikia is a free-to-use site that makes money from advertising. We have a modified experience for viewers using ad blockers

Wikia is not accessible if you've made further modifications. Remove the custom ad blocker rule(s) and the page will load as expected.