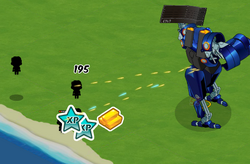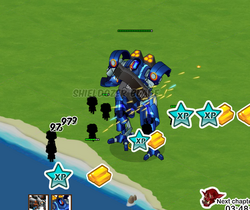 The Steel Gladiator Mech is another offer in Social Wars released this October 26, 2013. It is like the most offers, a humanoid mech, what is noticeable to it is its steel armor that it uses in battle.
HP:9600
ATTACK:198
RANGE:3
SPEED:6
-Bash Time: show his pipi
-Shieldozer Blade: Charges To The Target Enemy With His Shield
-Back Mortars: Fires The Mortars On His Back
-Drone: Spawns Drone 3 maximum
Appearance
Edit
A Big Blue Mech with a Cannon attached to its hand and a Shield
Ad blocker interference detected!
Wikia is a free-to-use site that makes money from advertising. We have a modified experience for viewers using ad blockers

Wikia is not accessible if you've made further modifications. Remove the custom ad blocker rule(s) and the page will load as expected.