Typhoon Servo Dragon- One of the mech dragons-probably the most powerful dragon mech at the time.
I don not know if this can be gotten in the atom fusioner but this can be gotten in promotional offers.
Typhoon Servo Dragon
Health-7900
Attack 164
speed 11
Delay 35
Range 10
Abilities
- Flame Sweep
-Compact Mode
-Devour
Typoon Servo Draggy Max- Probably 3
Trivia
Strongest mech dragon OF THE AGES!!! currently
So far only way to obtain is to buy it when able or hack- don`t, you hack in dragon=u get banned as easy as ABC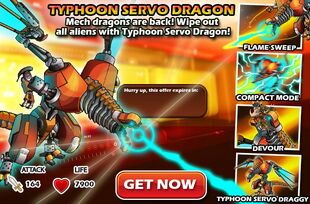 Ad blocker interference detected!
Wikia is a free-to-use site that makes money from advertising. We have a modified experience for viewers using ad blockers

Wikia is not accessible if you've made further modifications. Remove the custom ad blocker rule(s) and the page will load as expected.